Tritton Improves Sound Bite Portable USB Speaker
The original SoundBite USB travel speaker was already a world-class product that produced GREAT sound you could hold in the palm of your hand. Now with the next iteration: The xTreme takes mobile travel speakers to the next level. USB bus-powered convenience with both pure digital 2.1 stereo audio and power all from a single USB cable.
Tritton SoundBite Speaker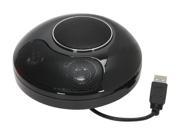 The
Sound Bite Xtreme USB w/ MP3 Input & Headphone Jack
: This best-selling mini speaker with 52mm sub-woofer is now even better: It features a sleek
black
redesign with side-mounted volume control and optional headphone-out jack -- AND -- MP3 stereo input jack. Note the tweeters are now protected from curious pokey-poke fingers with a metal grille. Nice! The original SoundByte model (which I owned myself for several years - and think very highly of) has long been a deserved best-seller at my
Portable Computer Speakers
website.
Kudo's to
Tritton Technologies
for improving an already great product with your smart, thoughtful engineering and high-quality speaker drivers! For those of you frustrated and disappointed with the abysmal speakers built-in to your MacBook-Pro, this is a fantastic upgrade. (
(also available at NewEgg)
.
Oh and did I mention the speaker's USB cable stores neatly in the base? This is exactly what happens when too many corporate brains really sit down and focus on what a customer might want, or need!
What Mac speaker system do YOU own? What do you love about it, what dissappoints you? Leave a comment...